Kattingeri Krishna Hebbar
K K HEBBAR WITH PANDIT JAWAHARLAL NEHRU AT THE UNVEILING OF MOULANA AAZAD'S PORTRAIT AT AZAD BHAVAN, 1959

Kattingeri Krishna Hebbar
K K Hebbar, born in Karnataka and later based in Bombay, represents a rare set of artists from the south that emerged as singular critical modernists of the country during the seventies without identifying themselves with any artist movement or group. The most prominent contemporaries of Hebbar in Bombay were the Bombay Progressive Artists' Group of the time which included F N Souza, S H Raza, M F Husain, K H Ara, H A Gade, S K Bakre et al. While his style evolved through depiction towards abstraction, a major medium being oil on canvas, it was complemented by an equally robust body of work in the medium of the line drawing – a style now famous as the 'singing lines' – a term attributed to his drawings by writer Mulk Raj Anand[1].
Having had formal artistic training from the Sir J J School of Art, Bombay and later at the Academy Julian, Paris, Hebbar taught art at the J J School for many years and was sought after as an art mentor by several institutions. While his early works reflect an influence of the academic style, he belongs to the generation of painters who allowed themselves to be influenced by the world and tried to grapple with a 'world of art buzzing with terminological search, even re-enunciation of the art process'[2]. His later travel across the world especially to Europe and the Far East including Japan and Indonesia therefore had a significant influence on him that made him re-define his style which became more globally encompassing, abstract and symbolic. Distinct from these, however, are his portraits, which reflect a more intimate and personal mode of the artist's interaction with his contemporaries and the people in his world.
Hebbar spent much of his later professional life in the city of Bombay. He continued to remain what some critic H A Anil Kumar calls ' a subversive modernist'[3] by managing to remain outside of frameworks that defined the blanket-identity of an Indian Modern Artist. Kumar observes that Hebbar was a 'diasporic-from-within, neither a nationalist nor a regionalist.'[4] Thus his works that did not profess to belong specifically to either nation or state, implied a general dissolution of the nationalist/regionalist tag that an artist is often pinned with. 'Where does one place that creative output that refutes both the national and the regional?', the question raised is important especially in the light of considering art works as not only aesthetic objects but as vectors of socio-cultural forces and products of their own times and contexts.
[1] p.14, Subramaniam, K G " The Pleasure of Knowing Hebbar". Hebbar: An Artist's Quest. NGMA and K K Hebbar Art Foundation. (Bengaluru) 2011
[2] Anand, Mulk Raj. "The Singing Line". Peacock Publication.(Bombay) 1964
[3] H A Anil Kumar. "Contesting National and the State: K K Hebbar's Modernist". ArtETC News & Views. [online.accessed on 3.3.2016]
[4] H A Anil Kumar. "Contesting National and the State: K K Hebbar's Modernist". ArtETC News & Views. [online.accessed on 3.3.2016]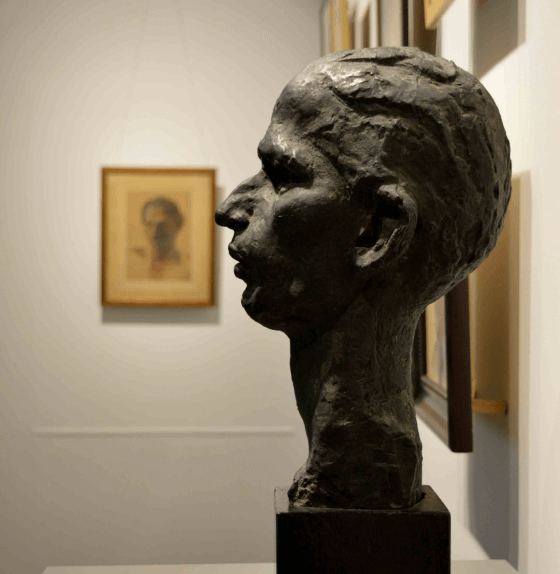 The portrait as an artistic genre has had as many trajectories, from being an intimate gesture of affection towards kins to celebratory moments of historical significance to moments of self-reflection through self portraits. Hebbar's portraits reflect a different mode of artistic engagement, one which reflects not only aesthetic concerns but a larger socio-economic context under which the portraits and the people in the portraits existed. In his own autobiographical essays, only passing references have been made to his portraits. In scholar H Y Sharada Prasad's words, they appear more as documentation works than purely artistic works[1]. The artist also appears to have felt that government commissions, though economically encouraging and valuable in terms of being in contact with eminent personalities, could 'force the bird into a cage'[2]. Nevertheless, they stand testimony to historical figures, friendships and intimacies and relationships which existed and constituted the world of the artist and perhaps even shaped his worldview. Art historically portraiture has close links with traditions of masks, performance with inherent social bearings closely entrenched in discourses of realism and expressionism, representational and anti-representational modes and so on. While some formalists like Roger Fry maintained that the model in a portrait is a mere scaffolding upon which the artist builds up a form, others like Spengler define it as a 'biography in a kernel'[3]. The question remains as to what aesthetic function can the medium of portraiture embody in our present day context? Other than being symbols of social contexts, portraits offer us with many tangents for thought with regards to the body and its representation, the philosophical implications of the self, the face and the world, the image as sociological and ideological symbols and literary narratives.
[1] p. 216, Sharada Prasad, H Y "K K Hebbar". The Book I Won't be Writing and Other essays. Chronicle Books (New Delhi) 2003
[2] p. 216, Sharada Prasad, H Y "K K Hebbar". The Book I Won't be Writing and Other essays. Chronicle Books (New Delhi) 2003
[3] p.61, Martin, David. "On Portraiture: Some Distinctions". The Journal of Aesthetics and Art Criticism, Vol. 20, No. 1 (Autumn, 1961), pp. 61-72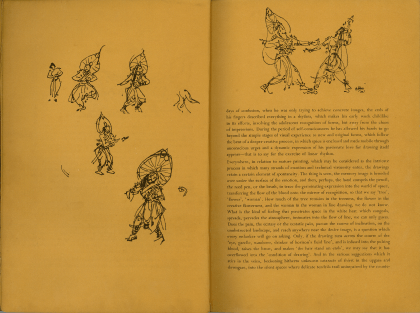 "Hebbar's Singing Lines" :
Hebbar hailed from Kattingeri, a village near Udupi and had grown up amidst a musical environment rich with folk performative traditions like Yakshagana. His long standing friendship with the cultural polyglot Dr. Shivarama Karanth who also hailed from the same region is well-known. As a young man, Hebbar had learned Kathak from a disciple of Birju Maharaj, not in order to learn dance, he insisted, but in order to instil a sense of rhythm that would reflect in his art works[1]. His singing lines adeptly captured the vibrant energy of Yakshagana dancers in the elaborate costume, complete with the head dress ( ketaki mudhale) and the breast-plate ( kavacha ). In fact the tiny head dress that was later introduced for the costume of female roles in Yakshagana by Dr. Shivarama Karanth has been attributed to a suggestion from Hebbar.
[1] p.17, Subramaniam, K G " The Pleasure of Knowing Hebbar". Hebbar: An Artist's Quest. NGMA and K K Hebbar Art Foundation. (Bengaluru) 2011

1941
Gold Medal of the Academy of Fine Arts, Calcutta
1947
Gold Medal of the Bombay Art Society
1956
First Bombay State Art Exhibition and AWARD
1956-57
Lalit Kala Akademi, New Delhi AWARD
1958
Lalit Kala Akademi, New Delhi AWARD
1961
President's 'Republic Day' Padmashri Honor
1976
Hon. Dr. of Literature Mysore University
1976
Elected Fellow of the Lalit Kala Akademi, New Delhi
1983
Soviet Land Nehru Award
1985
Karnataka Lalit Kala Akademi Award for Distinguished artists
1988
Maharashtra State Gaurav Puraskar
1989
President's ' Republic Day' Padmabhushan Honor
1990
Maharashtra Shasan ' Gaurav Puraskar'
1994
Varnashilpi Venkatappa Award, Government of Karnataka
Government Museum Collection


Commonwealth
Collection Australia





The Staten Island Institute
of Arts and Science USA

1953 – 1973
Chairman, Artists' Centre,
Mumbai
1954 – 1957
President, Art Society of India
Mumbai
1978 – 1980
President, Lalit Kala Akademi
Karnataka
1980 – 1984
Chairman, Lalit Kala Akademi
New Delhi
1987 – 1990
President, Bombay Art Society
Mumbai