Having had formal artistic training from the Sir J J School of Art, Bombay and later at the Academy Julian, Paris, Hebbar taught art at the J J School for many years and was sought after as an art mentor by several institutions. While his early works reflect an influence of the academic style as can be seen in 'Lady from Kerala', he belongs to the generation of painters who allowed themselves to be influenced by the world and tried to grapple with an art-world continually re-enunciating the art process. His later travels across the world especially to Europe and the Far East including Japan and Indonesia therefore had a significant influence on him that made him re-define his style which became more globally encompassing, abstract and symbolic. The portraits reflect a more intimate and personal mode of the artist's interaction with his contemporaries and the people in his world including anonymous faces who feature as familiar strangers in this kinship cluster as part of his experiential world. While Hebbar's style evolved from the depictive towards an abstract style, the major medium of his works being oil on canvas, it was complemented by a equally robust body of work in the medium of the line drawing – a style now famous as the 'singing lines' – a term attributed to his drawings by writer Mulk Raj Anand.
The most prominent contemporaries of Hebbar in Bombay were the Bombay Progressive Artists' Group of the time which included artists like F N Souza, S H Raza, M F Husain, K H Ara, H A Gade, S K Bakre et al. Hebbar had grown up amidst a musical environment rich with folk performative traditions like Yakshagana. His long standing friendship with the cultural polyglot Dr. Shivarama Karanth who also hailed from the same region is well-known while Charles Gerard, the dean of Sir J J School of Art Mumbai was a mentor to K K Hebbar who helped him find his individual style beyond mere technical skill. Hebbar's portraits stand testimony to historical figures, friendships, and professional relationships which existed and constituted the world of the artist and perhaps shaped his worldview. Art historically portraiture has close links with traditions of masks and performative practises closely related to styles such as realism, expressionism, representational and anti-representational modes and so on. An instance of this is evident in the expressionist aesthetic used by Hebbar in his portraiture of his contemporary (member of the Bombay Progressive artists), K H Ara. While some formal traditions of art criticism maintain that the model in a portrait is a mere scaffolding upon which the artist builds up a form, others define it as a 'biography in a kernel'. His portraits of his creative contemporaries reflect a web of the artist's kinships that formed and informed his aesthetics.
The Artist's Socio-Political World
Hebbar's portraits reflect a different mode of artistic engagement with his world, displaying not only aesthetic concerns but a larger socio-economic context under which the portraits and the people in the portraits existed. The artist's emergence is intrinsically linked to dedicated friendships and patronage that supports and makes possible an artist's freedom and an artist's voice to come to the fore. These portraits represent a set of government commissioned portraits of political leaders and patrons portrayed in moods that are quite domestic, intimate and non-formal. His general aesthetic moves away from glorification of any ideal 'personhood' and strives to stay true to the contextual mood and state of mind of the subjects portrayed, be it the coupled portraits of the Broese family who were life-long patrons and collectors of Hebbar's works, or the portraits of John F Kennedy and Pandit Nehru commissioned by the Times of India group for the Illustrated Weekly of India magazine, or the life-size portrait of Smt. Indira Gandhi which was made during her final days showing a vulnerable side of the national leader contrary to conventions of political portraiture.
The cluster depicting Hebbar's family has a personal rendering of the artist's understanding of the spaces in which his domestic world was situated. An abstracted portraiture of his two daughters Rekha and Rajani with a flat geometric aesthetic finds resonance in his ink drawing of the Sisters which is minimal in content but repeats the form of the two faces juxtaposed in a similar way to each other. Hebbar's wife Smt. Susheela Hebbar and mother Sitamma are portrayed within frames that include detailed elements marking their environment. For instance, in the portrait of Susheela Hebbar, a painting is depicted as resting in the background of the central figure and in the portrait of Sitamma, a tulsi katte in the courtyard can be seen in the backdrop. These portraits bring to the fore entire worlds, with the people associated within. These works reflect Hebbar's shift from his focus on merely portraying the subject to portraying the subject along with the subject's world as a whole.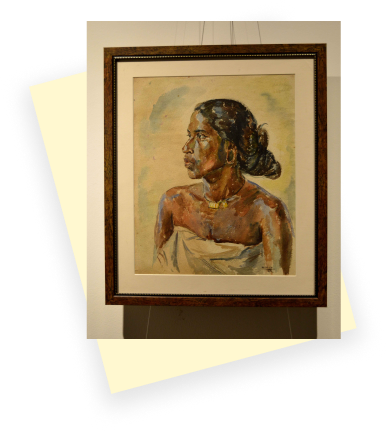 LADY FROM KERALA
WATER COLOUR ON
PAPER, 1946
DR. SHIVARAMA KARANTH
OIL ON BOARD 1946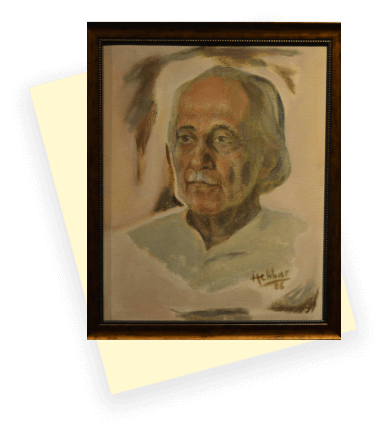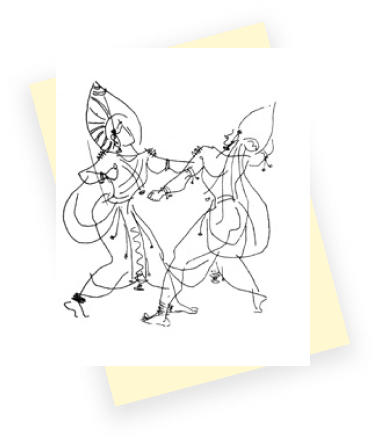 YAKSHAGANA SKETCH
PEN AND INK ON PAPER
ARTIST K H ARA
POSTER COLOR ON
CARDBOARD 1968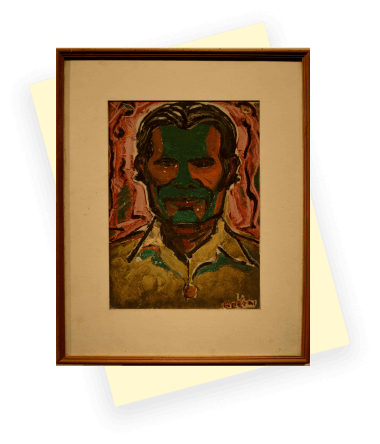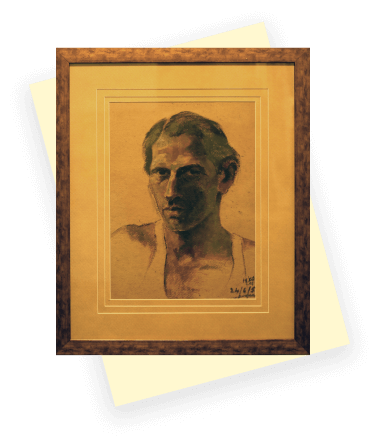 SELF PORTRAIT OF
K K HEBBAR
JOHN F KENNEDY &
PANDIT NEHRU
OIL ON CANVAS 1978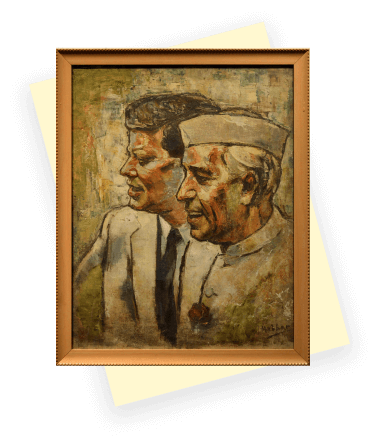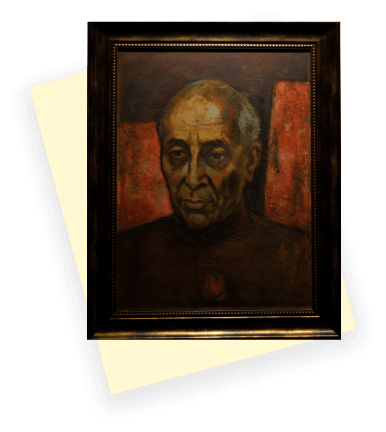 PANDIT NEHRU
OIL ON CANVAS 1978
REKHA/ RAJANI (DAUGHTERS
OF K K HEBBAR) OIL ON
CANVAS 1959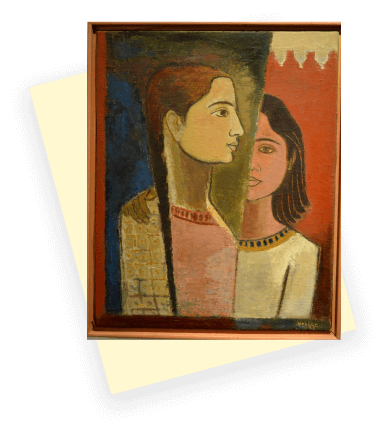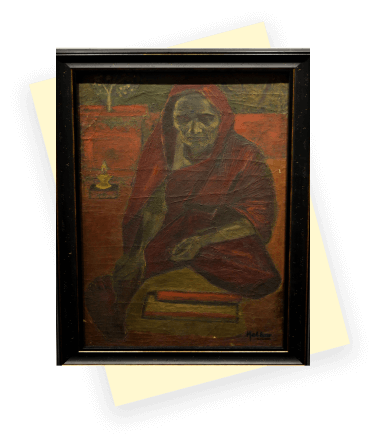 SITAMMA (MOTHER OF
K K HEBBAR) OIL ON
CANVAS EARLY 50'S